I feel reinvigorated and renewed, and a few other re- things to boot. Refreshed. Reformed. Rebarbative. (Actually not sure what that last one means.)
I have walked more miles in the past four days than I have done in the previous four months; I have seen the Seine and mused at the Musee d'Orsay; I have stirred coffee and stirred ideas around in my head. Paris, I think, is good for the spirit. Certainly good for the imagination.
Story and plot ideas started popping into my head from the moment I looked through the back window of the hotel room and noticed the grey-suited arm of a businessman working at his desk in the apartment/office building opposite, and from that moment they just went pop! pop! pop! at regular intervals, like a succession of champagne corks.
I love champagne! I love Paris! And, just at the moment, I am back in love with writing again.
Vive la difference!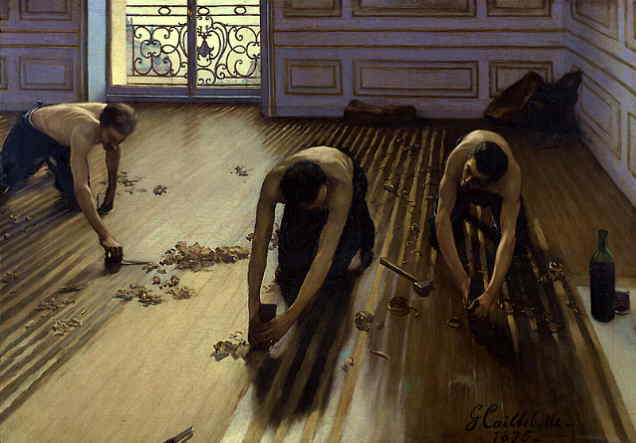 (I have to say that, when I saw this picture - Gustave Caillebotte's
Raboteurs de Parquet
- I did think of Erotica Cover Watch. I think their nineteenth century predecessors would have approved!)